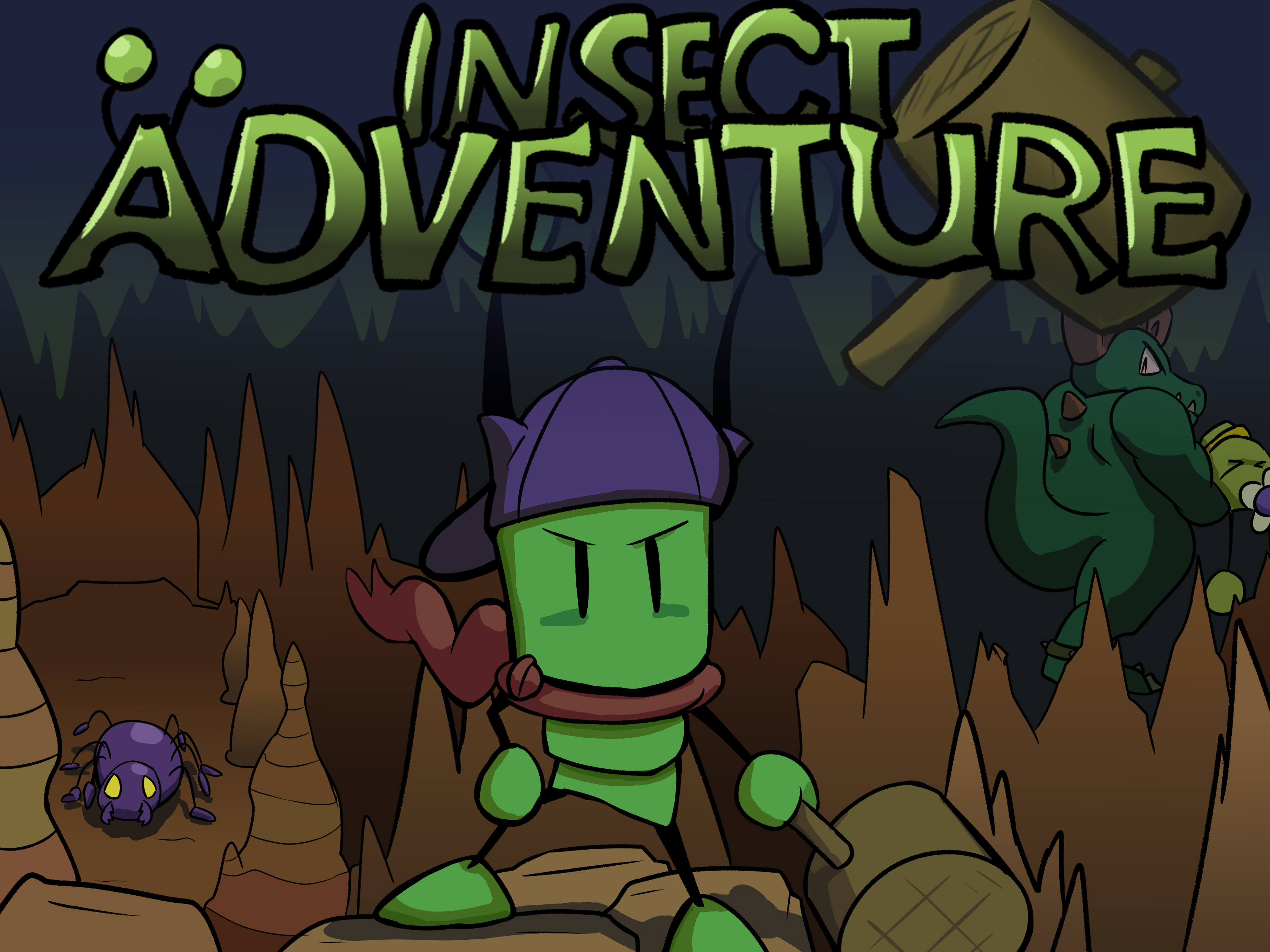 Insect Adventure
Accepting Donations

As the months come by, Insect Adventure comes closer and closer to completion. As of this update, I can finally make a demo with enough original music to make a version of the game with 100% original assets, allowing me to legally accept donations!
Art as a Hobby

Progress had been going slowly lately this year due to me putting half my focus on becoming a better artist. I've been able to make some people happy through requests and commissions and when I go back to this project I can feel the fruits of my labor when I continue to draw more backgrounds, sprites and cutscenes. This on top of having a regular job means that I'm usually extremely busy. In spite of this, I must stress that Insect Adventure is my baby. This game is the accumulation of thousands of hours of dreams and ideas of mine coming to life, and no matter how crammed my schedule is, I will continue to find time to work on it until it's finished.
Progress

How finished the game is kind of a mixed bag coming from me. There's a lot of stuff than ended up going through 5-6 passes and some stuff I still hadn't started yet, but the first 50% of the game, the entirety of the demo is all content I consider finished. Bosses have been the biggest pain in the ass for me to work with and they're all staring down at me. Insect Adventure has been a huge learning experience for me and when I started the project enemy AI was a low priority, rushed effort. I'm sticking to my guns on this to the end, the first 4 bosses featured in the demo are finished while the last 5 or 6 range from "functions as a punching bag until it explodes" to "not even started". In terms of environments and the script and other graphics? I'm almost completely done with them, with only the final lair to finish. There's a lot of odds and ends to finish as well, so I'll just sum it up with percentages like a lot of other devs I've seen do:

Base Engine: 100%
Rooms : 95%
Tilesets: 95%
Cutscenes: 60%

Basic enemies: 100%

Bosses: 50%

Written script: 100%
Soundtrack: 70%
Overall: 83% Complete!

GDEX 2020

I intend to show off the game at the convention through online means but I hadn't heard from them. Even if I can't submit the game for showing next month, I do have a table for next year's showing and I intend on buying a table for that year's Youmacon as well.
Testers and Community
I'm always looking for more people to test the game! If you have ideas or advice and really want to be a part of this you can check out my discord, which also has access to a more full version of the game to test out, bugs and unfinished assets in all.
Discord: https://discord.gg/ANt5Acy
Conclusion
Thanks for reading this, I will continue to chug away at developing this game and I hope I will find an audience for those who love metroidvania games with a lot of action!

Files
IA Demo 9.16.20.zip
54 MB
73 days ago