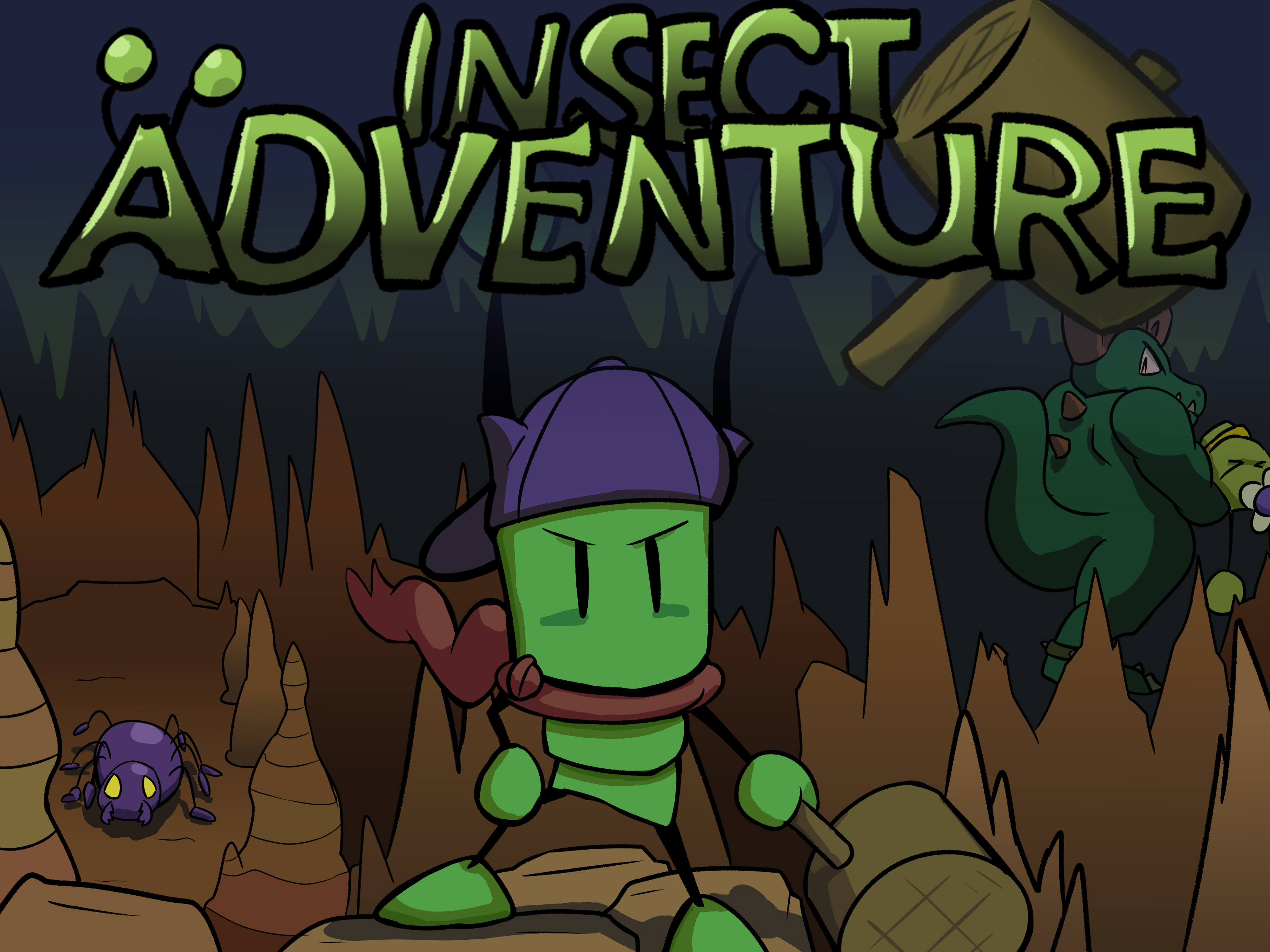 Insect Adventure
It's been a very long time since I last made a devlog post, but I've definitely not slept on it. I spent a lot of time in the last year and a half working at art, and because of this, a large amount of the game's graphics have been overhauled. Enemy AI has been overhauled, bugs have been fixed, gameplay as been streamlined. I had a couple people who were familiar with metroid speedrunning test my game a couple months ago and it has given me a lot of valuable feedback and also a lot of work and stress, but well directed work that helped me fix the big picture better.

Attached is the new demo, which allows you to progress roughly halfway through the game. The game was made for pushing different ways into beating it and speedrunning, This has been an ongoing passion project I've had for years, starring a character I drew as a doodle when I was merely 10 years old, and I want nothing more than as many people as I can to play it.
If you have any comments or questions for me, please join the discord for this game. The discord contains a download for a special beta tester version of the game and more frequent updates:


In other news, I have been accepted to run a booth at GDEX 2020 to demonstrate Insect Adventure in front of a live con-going audience. By some miracle, there's still a chance of it happening as of now despite the covid outbreak cancelling everything else. I'm crossing my fingers and hoping that I will get this opportunity for Insect Adventure to gain exposure to a wider audience. Thank you for reading and see you next update.

If you wanted to know, here's a list of the things that have been updated to the game since last time:

-New tileset graphics and backgrounds for the beginning cave
-New tileset graphics and backgrounds for Lizard Ruins
-New tileset graphics and backgrounds for Overgrown Jungle
-New tileset graphics for Dragon Swamp
-Updated AI for all aerial enemies
-Some rewritten dialogue and altered cutscenes
-Mantis has been redrawn
-Enemy hitstun and freeze properties are seperated, slight edits done to differenciate stronger enemies from weaker enemies and overall more standardized
-Enemies that are in their attacking animations are no longer vulnerable to attacks
-Easy difficulty makes enemies always drop a leaf when defeated, harder difficulties are rebalanced
-Spore Dragon's AI has been reworked, moved Hi-Jump Augment
-Lizardman's AI has been reworked, sprite has been redrawn
-Screen shake works as intended
-You can now slide by pressing Down+Forward while dashing, so you don't need to crouch and completely stop momentum every time you need to slide. You do need to build momentum to start sliding, though
-Mantis' AI has been reworked
-Great Tree boss has been redrawn has it's AI reworked
-Titanic Butterfly boss has been redrawn
-Changed the layout of a couple rooms you could get stuck in, fixed a bug that could get you stuck in walls/ceiling
-Clipping with the Dragon Flute is patched
-Grabbing augments sends you to the proper screen in the pause menu
-You can't ledge grab while standing on the ground, which before caused Bugsy to swing his hammer in the opposite direction you're standing in leading to awkward situations
-Fixed bug where you slide on the ground while crouching with the "Hold to Walk" option for dashing on
-You can use items in midair
Files
InsectAdventureDemo 4.29.20.zip
67 MB
Apr 29, 2020